Considerations in selecting a software solution for your family office - Revisited
Back in 2016 we wrote a blog explaining what software solutions Family Offices were looking for, depending on their size and structure. If you feel like reading the original story, you can find it here.
Reading it myself, I found it interesting to see how things have changed over the last 7 years. And boy have they changed!
My first reaction was, that saving money is no longer the main objective when looking to change the family office software solution. Not having a top-class management solution is now an existential risk. The finance world has become a lot more complex and certainly a lot more volatile. Family Offices have grown in stature and involvement in business and so has the market for investment and financial management solutions.
My second reaction was that the Cloud is no longer a novelty – as we predicted. Even some of our most reticent and long-established customers who were worried about the security of their data have now recognised that their on-premise security comes nowhere near what Microsoft, Amazon and the other providers can offer and have consequently taken up some flavour of a Cloud solution. Not that the on-premise option has disappeared from the market, but there has been a distinct change in thinking over the last 7 years. The choice of choosing or moving from one to the other must still be available.
One factor that has become dominant in selecting a management solution is the size of the Family Office.
Size does make a difference!
At the lower end of the scale, there are the HNWIs who manage their wealth through a bank or an advisory entity of some kind. They do not employ accountants or investment analysts but rely on external service providers or multi-family office specialists to do the work for them.
As one goes up the scale, the FOs begin to carry out more and more activities and some kind of a system to provide management and financial information is required. The number of staff goes up, the requirements of multi-generational families diverge, the Assets Under Management become more diversified and so on. The boundaries are blurred and the value of wealth alone is not the sole criterion for evaluating the needs of each band.
So if one solution does not meet the needs of all, how can one choose among the plethora of family office software solutions in the market to ensure that the right choice is made, not just for now but for the future? The prospective buyer will need to satisfy herself that the required functionality is there, and often the solution provider is asked to complete a detailed Request For Proposal document. All the criteria that we had noted years ago are still valid in the selection process, but inevitably progress has made some considerations even more important.

New adopters
The first step forward is usually to replace Excel with a formal system. At this stage, the Cloud option should be a front runner in the race, for many reasons: simplicity to implement, ease of use, etc. This could be a private Cloud implementation or a full SaaS option.
Considerations that are basic, yet often missed, include:
Does the software have limitations in the volume of data stored and reporting performance?




As time passes and your transaction history grows, you don't want to spend hours looking at a twirling screen to get the report your team needs





Does the software have a "look and feel" that can adapt to your needs as you grow?
Does the software have flexibility in workflow management?




The lower end of the scale may need a simple back office functionality, but as the Family Office grows, front or mid-office departments may be required, and formal approval and authorisation processes introduced.





Middle-tier Family Offices
Here I include entities of various sizes and complexity that will have implemented a solution or developed one in-house, but now find it inadequate, because they have grown in size and complexity or quite often because it has become technologically obsolete. The FO may now wish to move to the Cloud, distribute its activities globally or face some other constraint that the existing system cannot meet. The investment products are becoming more diversified and more exotic and the existing solution does not provide the required functionality. Ideally, your system should provide the capability to access selectively these functionalities, which had been "hidden" from the users previously for their convenience. That way the Family office's system can grow with its needs.


High achievers
Over the years we have seen the growth of some Family Offices to a size and complexity that resembles a private bank, with activities and products normally associated with a bank. But of course they still don't have third-party clients and a pure banking solution would not suit them. More importantly, we find that these organisations want to differentiate themselves with some functionality that they can't find in the market. These entities need fast and efficient customisation or enhancements, to respond to that specific need, and with minimal risk of disruption to existing processes and user activities.

Conclusion
The factor that ultimately distinguishes a product from the rest of the market, is the underlying Technology. This is what enables a successful family office software provider to respond to ever-changing requirements and what ensures that the provider will be able to meet the demands of the future.
What do we see as coming out in the near future?
Increased automation within the entire organisation in processes that are executed manually today, through a holistic approach in interaction inside and outside the organisation




Machine Learning tools will enhance processes and increase efficiency, helping to minimise human intervention. These apps will be user-friendly and not require knowledge of programming
Whatever product you choose that meets your functional requirements, you must also ensure that this solution has the technological capacity to move along with the future. If you reach the uncomfortable decision that what you need does not exist in the market, you must find a solution that can add a customisation layer without huge development costs and associated project risks. And today's technology can make this possible.

Whatever your size and challenges, we will have the answer! Please contact us for more information and a no-commitment demonstration of our family office software.
About the author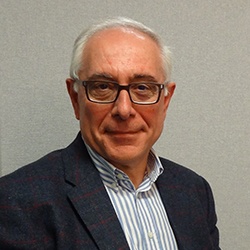 Tony is a member of the Institute of Chartered Accountants, with a long track record in the software industry.
As the founder of Elysys, his goal is to help Elysys become the leading provider of solutions in the Finance industry and to provide specialised solutions for complex requirements.