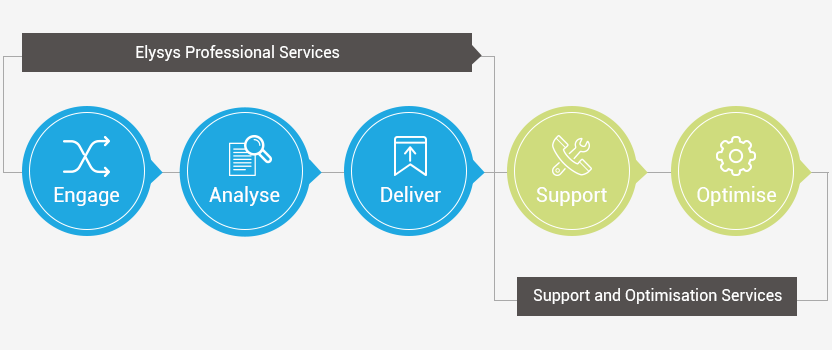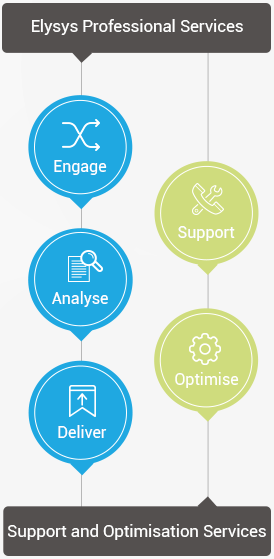 The professional services stages of the Elysys Lifecycle Services Methodology focuses on delivering the optimal solution for your base Elysys financial software installation (on-premise deployment scenarios). When working with you on Cloud-based deployments the same methodology is applied, although a lighter version is used, which is appropriate to the nature of the Cloud.
Engage
The Engage stage is about connecting and understanding you, our potential customer. We will talk to you to better understand your business and your requirements. From there we can introduce the right products and services that match your business needs.
Analyse
The analyse stage sees a deeper analysis of your business requirements, as well as putting together a document that outlines the high level plan, including objectives and deliverables. This scope becomes the basis of our future engagement.
Deliver
We put together a detailed project plan for your solution and conduct the installation of your Elysys financial software during the delivery stage. We will also provide the necessary training so you get the most out of your Elysys software and help you with the data migration process before taking your solution live.
Support and Optimisation Services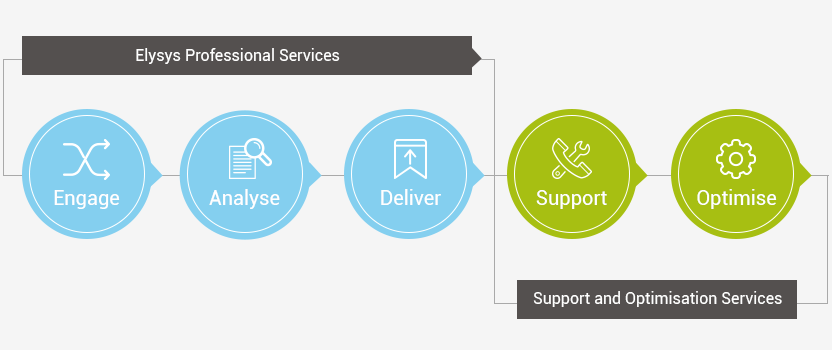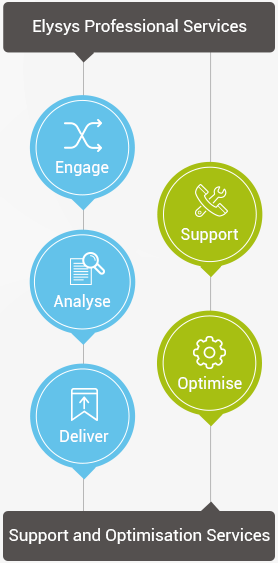 The support and optimise stages take care of your Elysys solution over the long-term.
Support
You can choose from our Silver or Gold Service Plans in order to provide the right level of support for your Elysys solution.
The Silver plan provides free access to our support team for any software issue resolution post go-live, as well as software upgrades at no extra charge.
The Gold plan includes, not only issue resolution free of charge, but also software upgrades and the services required to implement them. All our clients also get access to our support portal.
Optimise
We have two approaches to system optimisation and enhancement. The first is our feature inclusion programme where we invite our customers to request new features for permanent inclusion across our platform. The second is where you might have a specific request that is unique to your solution that you would like included.